Percentage

Percentage (%) Calculator
Percentage (%) Calculator
getcalc.com's Percentage (%) Calculator is an online basic math functions tool to find X is what percent of Y to measure the relative percentage score of observed value to reference value. To calculate X% of Y, percentage difference, change, increase, decrease or error, use the below calculators
Definition & Formulas
Percentage is an important mathematical function used to measure the certain quantity in percentage with respect to the reference value. For example, 475 is what percent of 500? 475 is 95% of 500. Therefore, the score is measured in percentage from the reference value.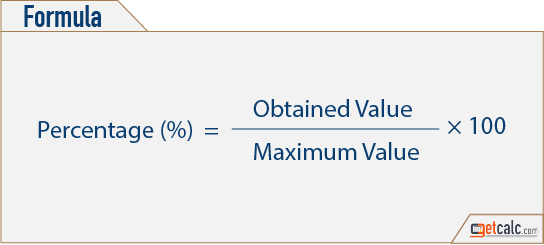 You may like the below resources!
x
ask
Zera - Quick Math Solver!
Hi,
I'm Zera, an AI based Bot for getcalc.com to provide quick answers with steps for fractions arithmetic, LCM, GCD, percentage, average, prime factors, standard deviation, mean, mode, median, coefficient of variation and much more.
say "Hi" to know more 😀
ask