Margin Of Error

Margin of Error Calculator
Margin of Error (MoE) Calculator
getcalc.com's Margin of Error (MoE) Calculator is an online statistics & probability tool to estimate the effectiveness of statistical surveys or experiments.
Definition & Formula
Margin of Error is a mathematical function or method used in the context of statistics & probability, often represented by MOE used to estimate the effectiveness of a survey. The smaller and larger value of margin of error represents the high and lower confidence respectively, in the survey results.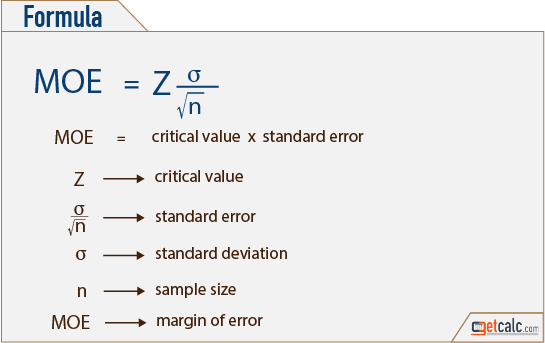 You may like the below resources!
x
ask
Zera - Quick Math Solver!
Hi,
I'm Zera, an AI based Bot for getcalc.com to provide quick answers with steps for fractions arithmetic, LCM, GCD, percentage, average, prime factors, standard deviation, mean, mode, median, coefficient of variation and much more.
say "Hi" to know more 😀
ask